Trusted crypto exchange with over 20 million users
More than 400+ digital currency pairs
Buy and sell cryptocurrencies with a debit/credit card or bank transfer
Low commissions that start from 0.1%
Fully-fledged mobile app on Android and iOS
Great reputation and highly secure
Cons
Debit/credit card fees could be more competitive
Derivative products too complex for beginners
at eToro, UK's #1 Broker
Cryptoassets are highly volatile unregulated investment products. No EU investor protection
4. Binance – Best Broker to Buy Litecoin for Asset Diversity

Launched in 2017, Binance is now the largest cryptocurrency exchange – both in terms of users and trading volume. This is because the platform now serves over 100 million users and is often home to tens of billions of dollars in trading volume each and every day. Binance is popular with traders for many reasons – especially when it comes to asset diversity.
This is because the platform offers hundreds of digital currencies and even more in the way of tradable markets. For example, not only can you buy Litecoin in the UK at Binance, but heaps of large-cap digital assets, ERC-20 tokens, Defi coins, and even NFTs (non-fungible tokens). The broker also offers cryptocurrency options and futures, albeit, if you're a UK retail client you won't legally be able to gain access to these financial products.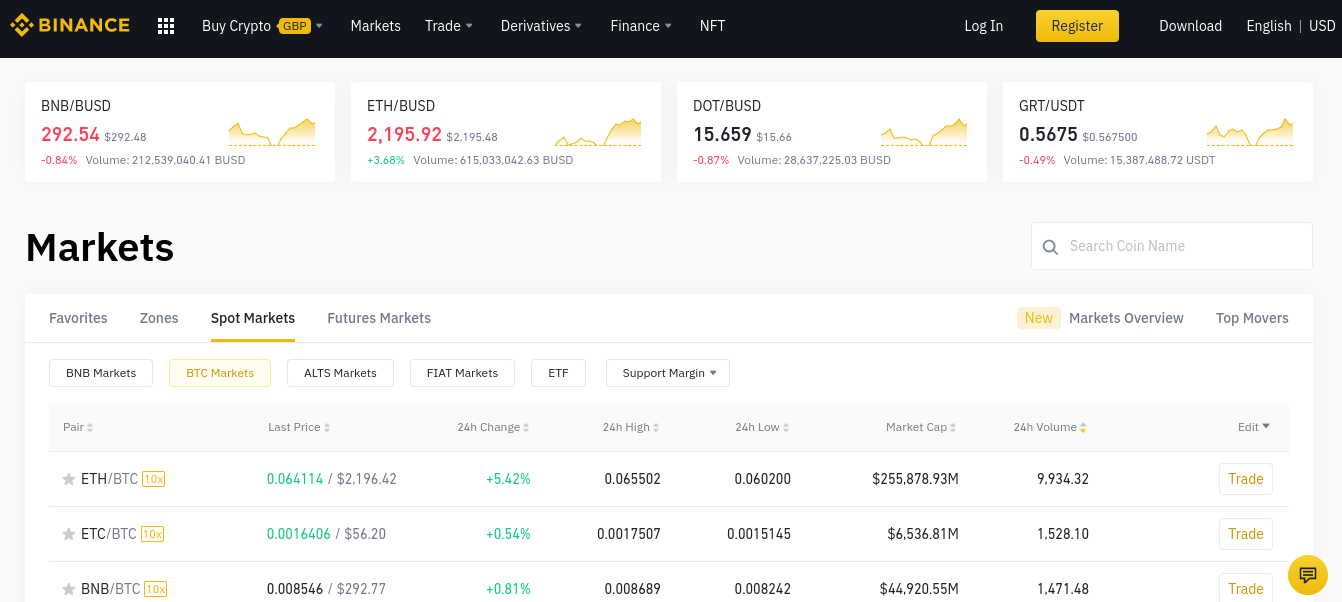 Nevertheless, in terms of buying Litecoin at Binance, fees will depend on your chosen payment method. For example, if you want to buy LTC tokens with a debit or credit card, Binance charges 1.8%. This is much more competitive than the 3.99% charged by Coinbase, but more expensive than the 0.5% available at eToro. If you want to deposit funds from your bank account, no transaction fees apply. Plus, Binance notes that the transaction is normally processed instantly.
If opting for a bank transfer, you'll be pleased to know that Binance offers a GBP/LTC market. This means that you can purchase Litecoin with pounds and pence and pay the platform's standard commission of just 0.10%. You will also benefit from a 0.10% commission rate should you deposit funds with an alternative digital currency like Bitcoin or Ethereum. This option will also allow you to buy Litecoin without needing to supply any personal information or KYC documentation.
Pros
Facilitates billions of dollars in daily trading volume
Supports hundreds of digital asset pairs
Near-instant deposits via debit/credit cards and local bank transfers
Trading commission starts at just 0.1% per slide
Offers crypto savings accounts
Ideal for both beginners and experienced traders alike
Cons
Not all supported cryptocurrencies can be purchased with a debit/credit card
No e-wallet deposits or withdrawals
at eToro, UK's #1 Broker
Cryptoassets are highly volatile unregulated investment products. No EU investor protection.
5. Coinjar – Best Broker to Buy Litecoin UK for Those on a Budget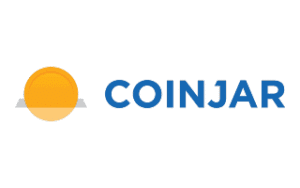 Launched way back in 2013, Coinjar is the largest cryptocurrency exchange in Australia in terms of registered users and volume. With that said, the platform has since opened its doors to the UK markets. Coinjar is a particularly good option if you are looking to buy Litecoin in the UK with a small amount of capital. This is because you only need to meet a minimum investment of £5.
This also means that Coinjar is great for diversification purposes, as a £50 deposit would effectively allow you to invest in 10 different tokens. This top-rated broker is home to a great selection of markets, which is inclusive of Defi coins like Compound, Maker, Yearn.finance, Uniswap, and 0x. Large-cap coins are also supported – such as Bitcoin, Ethereum, Ripple, and Stellar. In terms of getting started, Coinjar will initially ask you to register an account and upload a copy of your passport or driver's license.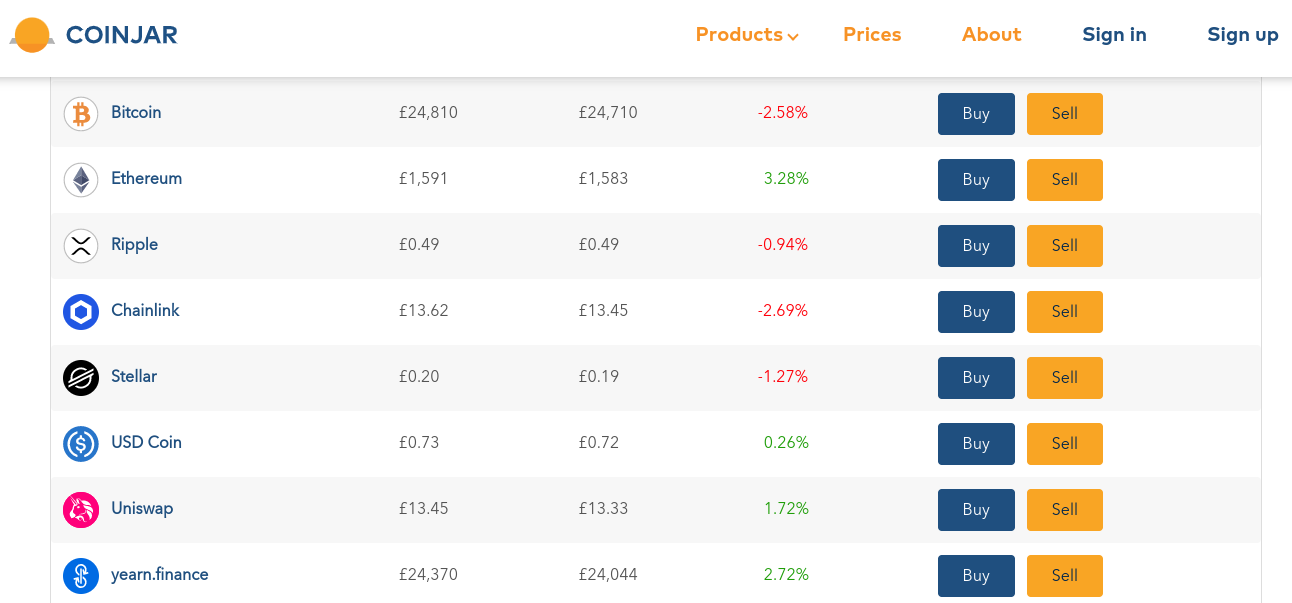 After all, you will have unfettered access to the fiat money deposits and withdrawals. The easiest way to buy Litecoin in the UK at Coinbase is to use your debit or credit card. This is because the purchase will be completed instantly. This will cost you 2% of the transaction amount – meaning a £1,000 purchase will result in a fee of £20. Although cheaper options are available elsewhere, this is still more competitive than the likes of Coinbase.
Alternatively, you might also consider making a deposit via a UK bank transfer. Not only is this free of any transaction fees, but the transfer is sent via the Faster Payments network. This means that the funds should arrive in your Coinjar account in a matter of minutes. Just make sure you include your unique Coinjar reference in the transaction to ensure that delays are avoided. Once the funds do arrive, you can buy Litecoin in the UK at a commission of 1%.
Pros
Has been active in the crypto brokerage arena since 2013
Very user-friendly platform – so perfect for beginners
Mininmum deposit of just £5
No fees to deposit funds via Faster Payments
Debit/credit cards also supported
Top-rated mobile app
Cons
Too basic for experienced cryptocurrency traders
at eToro, UK's #1 Broker
Cryptoassets are highly volatile unregulated investment products. No EU investor protection.
How to Buy Litecoin in the UK – Detailed & Explained in Full
If you're looking at how to buy Litecoin in the UK but you have never previously purchased cryptocurrencies online – this section provides a detailed walkthrough. Not only does this include the process of opening a cryptocurrency broker account and verifying your identity – but how to deposit funds and place a Litecoin order.
Note: Our walkthrough below will show you how to buy Litecoin at FCA-regulated broker eToro, not least because the platform offers the safest and most cost-effective option in the market.
Step 1: Open a Crypto Broker Account
The first step required at eToro is to open a crypto broker account. This will require you to enter some personal information – such as your first and last name, residential address, and national insurance number. You will also need to supply your contact details – which is inclusive of your mobile number and email address.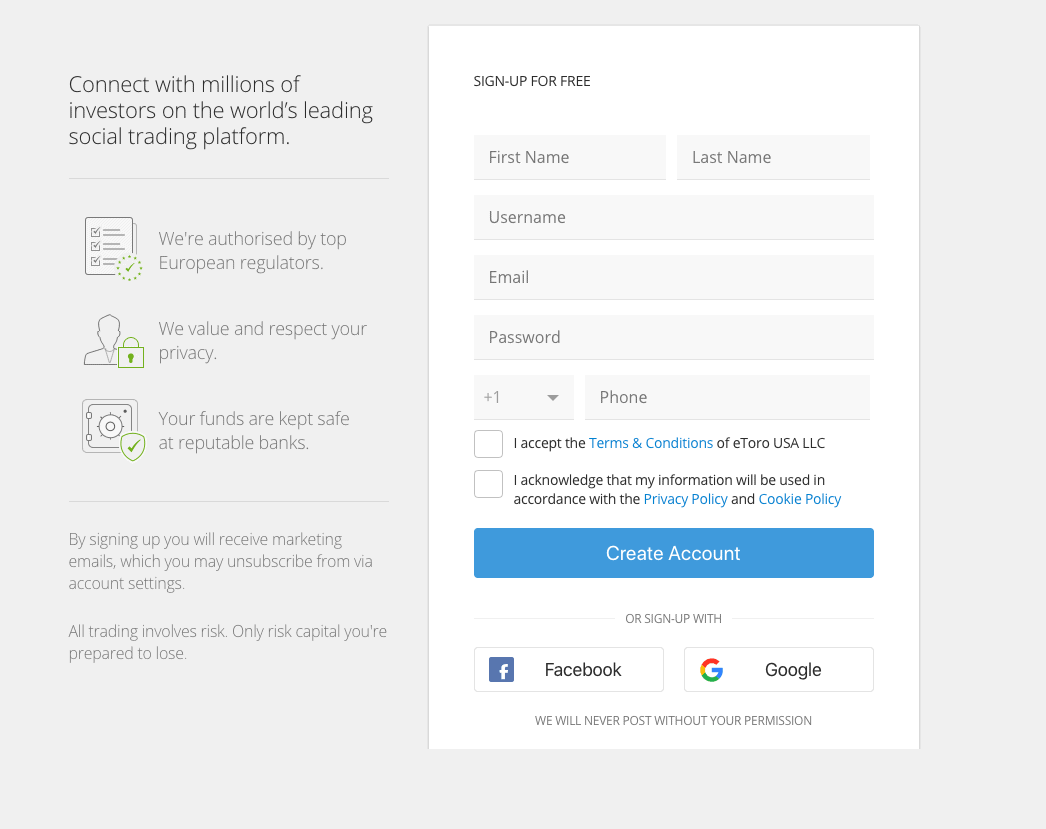 Next, you will need to verify your mobile number. To do this, eToro will send you a unique code via SMS. Then, you will need to enter this code on-screen to complete your account registration.
Cryptoassets are highly volatile unregulated investment products. No EU investor protection. 67% of retail investor accounts lose money when trading CFDs with this provider.
Step 2: Verify Your Identity
eToro allows UK residents to buy cryptocurrency instantly up to the value of $2,250 – which is about £1,600. If you are planning to invest more than this, then you will be required to go through a KYC (Know Your Customer) process. This requires a copy of your passport or driver's license and a document that verifies your home address.
The latter can be a recently issued bank account statement or utility bill. If you decide to skip the KYC process, you will need to complete it before you are able to make a withdrawal. As such, it's best to get it out of the way now so that you can remove all account limitations.
Step 3: Deposit Funds
The minimum first-time deposit at eToro is $200. After that, you can deposit from $50 upwards. eToro supports various payment methods, albeit, debit/credit cards, Paypal, or Skrill is the best option. This is because your deposit will be processed instantly – which UK bank transfers aren't. Irrespective of your chosen payment type, eToro charges a very reasonable FX fee of 0.5%.
Step 4: Search for Litecoin
At this stage of our step-by-step walkthrough, you should have a verified eToro account that is funded. If so, you can proceed to buy Litecoin. To go straight to the Litecoin investment page, enter 'LTC' into the search box at the top of the screen.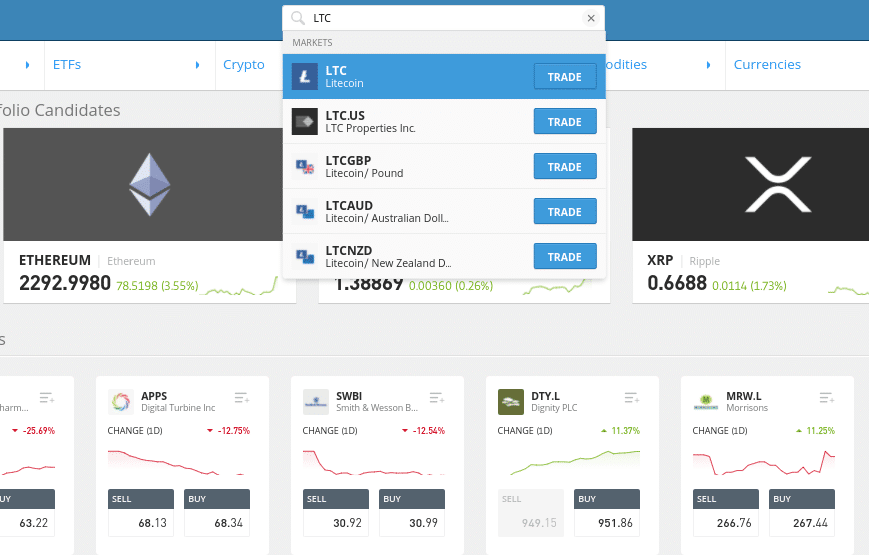 When you see 'LTC Litecoin' pop-up (like in the image above), click on the blue 'Trade' button. This will then populate a buy order box – which we explain in the next step.
Step 5: Buy Litecoin UK
The final part of the process will require you to enter your stake. This needs to be stated in US dollars and the minimum is $25. This means that you do not need to purchase a full Litecoin – which, at the time of writing, is priced at over $143 each.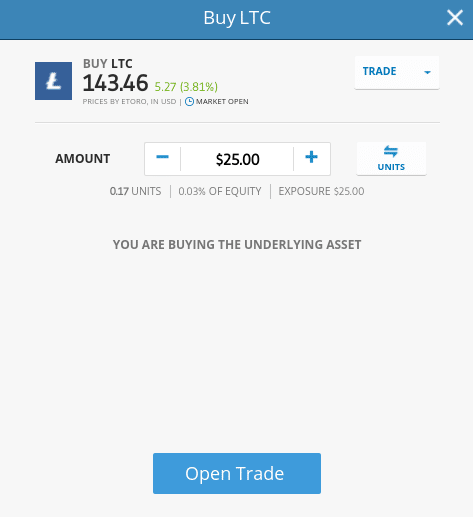 As you can see from the image above, we are buying $25 worth of Litecoin – which is stated in the 'Amount' box. To complete your Litecoin investment, click on the 'Open Trade' button.
eToro will execute your LTC order instantly – and the tokens will be added to your portfolio.
Buy Litecoin – Best Place to Buy Litecoin in the UK
Now that we have walked you through the standard LTC investment process – we can talk about the best place to buy Litecoin in the UK. After all, there are several methods available – so you need to choose the right investment platform for you and your financial goals.
Below we discuss the best platform to buy Litecoin in the UK right now.
Online Cryptocurrency Broker
Cryptocurrency brokers are somewhat similar to traditional share dealing platforms. This is because you will need to open an account, verify your identity, deposit funds, and then invest in your chosen asset. In the case of Litecoin, you will be buying LTC tokens directly from the broker itself. This means that you don't need to trade with another user – making the process ideal for newbies.
Additionally, online brokers that are regulated by the FCA – such as eToro, have the legal remit to accept fiat money deposits. This means that you can buy Litecoin in the UK with your standard debit/credit card. Bank transfers and even e-wallets like Paypal are also an option.
Cryptocurrency Exchange
Cryptocurrency exchanges – of which there are now hundreds, operate in a slightly different way to online brokers. This is because the exchange is simple an intermediary between buyers and sellers. That is to say, you won't be buying Litecoin directly from the exchange. On the contrary, you will be purchasing the tokens from somebody that wishes to sell them.
On the one hand, this often results in very low trading commissions, as the exchange will is simply there to facilitates buy and sell orders between market participants. However, you should tread with caution when using a cryptocurrency exchange, not least because most are unregulated.
This means that by buying Litecoin in the UK from an exchange, your money is at risk. After all, there have been dozens of instances where cryptocurrency exchanges have been hacked or simply run off with client money. Plus, if the exchange is unregulated, this means that it cannot legally accept fiat money payment methods like a debit/credit card or bank transfer.
Litecoin ATMs
Another option to consider when learning how to buy Litecoin in the UK is via a cryptocurrency ATM. According to CoinATMRadar, there are just over 80 crypto ATMs in the UK that support Litecoin. If there is a terminal near to where you live, this means that you can buy Litecoin by inserting cash into the ATM.
Once you complete the transaction, the machine will print a receipt. This then allows you to transfer the coins into a private wallet. The main problem with buying Litecoin in the UK from a crypto ATM is that fees can range from 10-20% of the transaction amount. This means that you are sacrificing value for convenience.
Ways to Buy Litecoin UK
If you are unsure which payment method to use when investing in cryptocurrency online, below we discuss the best ways to buy Litecoin in the UK.
Buy Litecoin With Debit Card
If you are using an online broker that has the remit to accept fiat money – then the best way to buy Litecoin is with your debit card. Crucially, this is because you can normally buy Litecoin instantly – meaning that you will be in possession of the tokens as soon as you confirm the payment.
You do, however, need to understand how much the broker charges for debit card payments – as this can often be pricey in the cryptocurrency space.

As we have noted several times, Coinbase will charge you 3.99% for the pleasure.

You then have brokers like Coinmama, which charge 5% in addition to a buy commission of 3.90%!
Platforms like Binance and Coinjar are more competitive at 1.8% and 2% respectively. But, the very best option to buy Litecoin with a debit card is eToro – as you will only pay 0.5% to deposit funds.
Buy Litecoin via Debit Card with 0% Commission Now >
Buy Litecoin With Credit Card
If your chosen broker supports debit cards, then it's all but certain that credit cards are accepted too. The fees charged by the broker will normally be the same as a debit card purchase – meaning that there is no premium.
However, some credit card issuers do not support cryptocurrency purchases due to the risks involved. Plus, even if the issuer does permit this, you might be charged a cash advanced fee. This averages 3% in the UK – so do your homework before proceeding.
Buy Litecoin via Credit Card with 0% Commission Now >
Buy Litecoin With Paypal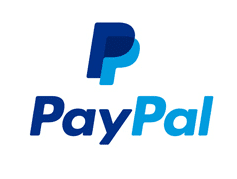 Paypal is another good option to consider in your search to buy Litecoin in the UK. This is because you are offered an additional layer of security, insofar that you will not be required to enter your payment details directly into the broker's website.
Instead, you simply need to sign in to your Paypal account through an encrypted pop-up box. Then, it's just a case of confirming the transaction and the broker will process it instantly.
Not many cryptocurrency brokers in the UK support e-wallets. We did, however, find that eToro supports Paypal, Skrill, and Neteller – should this be a preferred payment method for you.
Buy Litecoin with 0% Commission Now >
Buy Litecoin With Bitcoin
We discussed earlier that paying for your Litecoin purchase with an alternative cryptocurrency is a great option to consider. Not only is this because you will benefit from super low fees and commissions, but you will not need to go through a cumbersome KYC process. After all, the latter is typically only a requirement if you are looking to use fiat currency.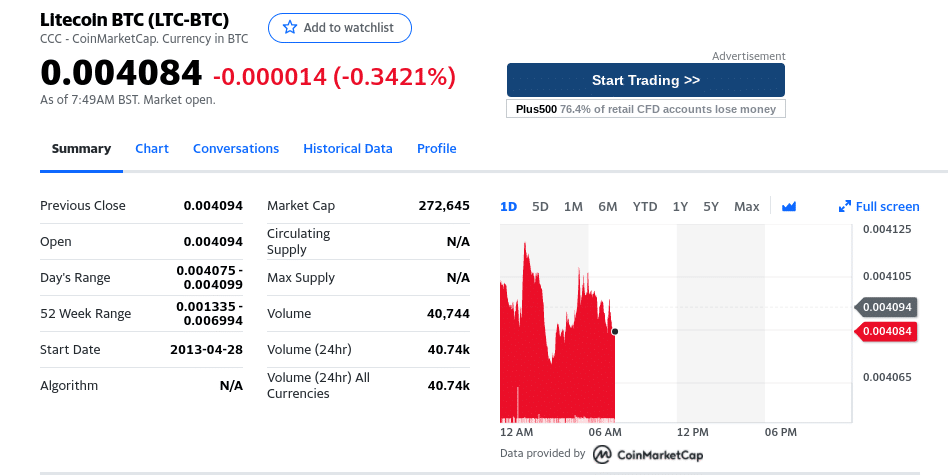 The process of buying Litecoin with Bitcoin (or any supported digital token) is as follows:
Quickly open an account with a cryptocurrency exchange like Binance or OKEx
Deposit Bitcoin into your account (10-20 minutes)
Exchange Bitcoin into Litecoin by trading LTC/BTC
Withdraw Litecoin to a private wallet
If you complete the above process with either Binance or OKEx, you will only pay a commission of 0.10%.
Buy Litecoin with 0% Commission Now >
Why Buy Litecoin UK?
Like all investment decisions, you need to think carefully before you buy Litecoin in the UK. This is because you will be risking real money on the digital asset – so in-depth research is key.
In the sections below, we explain some of the key reasons why you might want to buy Litecoin today.
Established and Solid Track Record
If you were to head over to cryptocurrency data platform CoinMarketCap – you will see that there are now more than 10,000 digital tokens in existence. You will also find that many of these crypto projects are less than a year old – meaning they have little to no track record in this industry.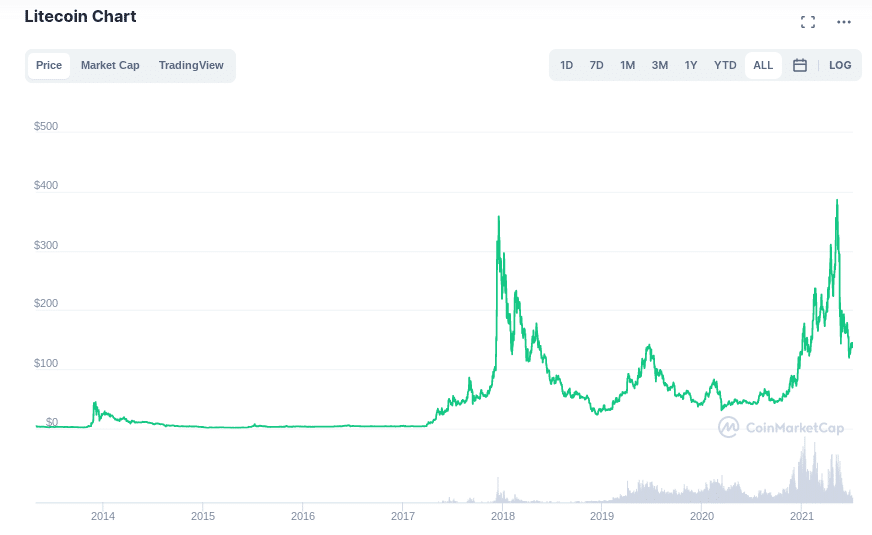 This couldn't be further from the truth in the case of Litecoin – which was first launched to the public in 2011. This makes LTC one of the most established cryptocurrencies in the market – which is crucial from a risk management perspective.
Price Action Since Launch
When Charlie Lee – the founder of Litecoin, launched LTC tokens to the open marketplace in 2011, it was trading at just a few cents. Fast forward to the crypto-bull market of late 2017 – and Litecoin breached a then all-time high of over $370.
Although the digital currency then followed the rest of the cryptocurrency markets by going through a prolonged bearish period, Litecoin has since breached this prior high by trading at over $388.
This feat was reached as recently as May 2021. This means that over the course of about 10 years, Litecoin has increased in value by over 129,000%. In comparison to stock market indexes like the FTSE 100 or S&P 500 – these returns are nothing short of astronomical.
Buy Litecoin While it is Trading at a Discount
In the traditional financial markets, buying an asset at a 'discount' means that you are investing when the instrument is undervalued. It could be argued that based on current prices, Litecoin is trading a huge discount.
After all, we noted in the section above that in May 2021, Litecoin breached new all-time highs at $388 per token. However, less than two months later in July 2021, the same digital currency is trading at just $142. There are two ways to look at this. Firstly, in comparison to its high of $388, this represents a discount of 51%.

Secondly, if you are bullish on the long-term prospects of Litecoin and thus – you believe it will once again surpass a price of $388 – this would require an upside of 106%. Taking these factors into account – now could be the right time to buy Litecoin in the UK.
Upside Potential
Another potential reason to buy Litecoin in the UK is that at current prices – the project is carrying a market capitalization of just under $10 billion. On the one hand, this is an impressive feat – especially when you consider that this makes Litecoin more valuable than much of the FTSE 100.
However, when you look at the value of other digital currency projects in this industry – it could be argued that Litecoin is still undervalued. For example, in May 2021, Dogecoin – which is a "meme" cryptocurrency created as a joke, breached a market capitalization of over $90 billion.
The Cost of Buying Litecoin
This guide on how to buy Litecoin in the UK has discussed investment-related fees throughout. To recap, below we explain the main costs of buying Litecoin online.
Deposit Fees
Deposit fees will be charged by almost all cryptocurrency brokers. The fee will vary depending on your chosen provider and your preferred payment method.
For example, debit and credit cards are usually the most expensive, with some Litecoin brokers charging more than 5% of the transaction amount.
eToro charges just 0.5% – which is the lowest we have come across.
If you transfer funds from your bank account, this is often free. On the flip side, this can delay the deposit process by a couple of days. With that said, Binance and Coinjar promote instant and free UK bank transfers via the Faster Payments network.
Trading Fees
Trading fees – otherwise referred to as the commission, are charged when you buy or sell Litecoin. In the cryptocurrency brokerage scene, this is usually a variable percentage.
For example, at Coinbase, you will pay a commission of 1.49% to buy Litecoin.
As such, an investment of £500 would cost you £7.45.
If you then sold your Litecoin investment when it was worth £1,500 – your 1.49% commission would amount to £22.35.
eToro does things differently as the broker charges a spread as opposed to a variable commission. This refers to the gap between the bid and ask price of Litecoin =- which is dictated by market forces.
Risks of Buying Litecoin in the UK
Before you proceed to buy Litecoin in the UK – we would suggest considering the risks outlined below.
High-Risk Asset Class
Litecoin – alongside the many thousands of other digital currencies available to buy and sell online, is a high-risk asset class. This means that in many ways – there are two potential outcomes. On the one hand, you might make unprecedented returns in a very short period of time.
But, equally, there is every chance that you will lose a sizable chunk of your investment – should Litecoin and the wider cryptocurrency markets crash. This has happened many times in the past, albeit, the markets have always recovered. Just remember that Litecoin experiences above-average volatility levels – so be prepared for a bumpy ride for as long as you are invested in the asset.
Ultra-Competitive Marketplace
Of the 10,000+ cryptocurrencies that are in existence, many of these offer digital payment services just like Litecoin does. This means that Litecoin operates in a highly competitive marketplace. For example, Litecoin transactions often take 2.5 minutes to process.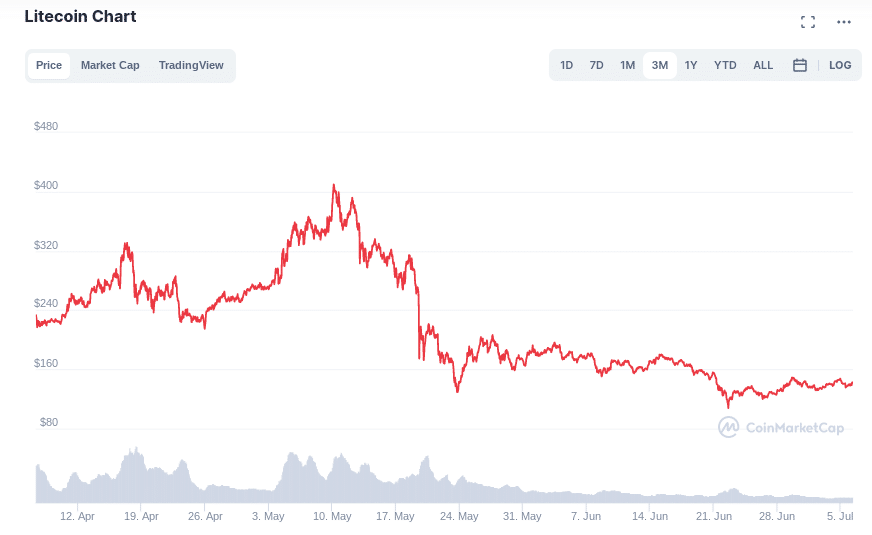 In comparison, several alternative blockchain networks can process payments in less than a second. This means that ultimately – Litecoin is somewhat sluggish when it comes to efficiency and speed.
Founder of Litecoin has Already Cashed Out
When Litecoin went through a prolonged bull run in late 2017, its founder – Charlie Lee, made the decision to sell his entire portfolio of LTC tokens. This would be compatible with Jeff Bezos or Elon Must selling their entire share allotment in Amazon or Tesla, respectively.
In other words, it is highly questionable that the founder of Litecoin didn't share the same faith in the project as other long-term investors. Although Lee is still involved with Litecoin, this should present a major red flag.
Selling Litecoin: A Quick Overview
If you're wondering how to sell Litecoin after you have made an investment – the process will vary depending on where the tokens are being stored.
For example, if you made the purchase at an online broker and decided to keep the tokens in your online web wallet, then you can typically cash out at any time day or night.
When you do, the tokens will be sold at the current market rate and the funds subsequently added to your brokerage account balance.
If you bought Litecoin from an exchange and decided to withdraw the tokens to a mobile, desktop, or hardware wallet – then the selling process is slightly different. This is because you will first need to transfer your LTC tokens into an exchange before creating a sell order. Don't forget – when you do get around to selling your Litecoin investment – you will likely need to pay a commission on the sale.
How to Buy Litecoin UK – Conclusion
If you're looking at how to buy Litecoin in the UK right now with a trusted and low-cost broker – consider completing the purchase with eToro.
This top-rated trading platform allows you to stake from just $25 on Litecoin – meaning that you are not required to buy a full coin. Plus, you will only need to cover the spread – as opposed to paying a variable commission.
Most importantly – your investment funds are safe at eToro, as the broker is regulated by the FCA. You can buy Litecoin in the UK from eToro right now by opening an account and making an instant deposit with your debit/credit card!
eToro – Best FCA Broker Buy Litecoin UK
FAQ
How to buy Litecoin in the UK?
Where to buy Litecoin in the UK
Is Litecoin a good investment?
Is Litecoin safe to invest in?